Celebrating all of Kansas City's early architectural heritage.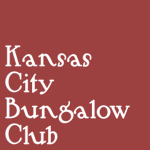 The Kansas City Bungalow Club celebrates and advocates for all of Kansas City's residential architectural heritage up to the 1940's.  With a special emphasis on bungalows and the Arts and Crafts style, we are also dedicated to the enhancement and preservation of the area's many early neighborhoods.
We are proud recipients of the Historic Kansas City Foundation's "Proactive Preservationist" award for 2005.
A bit of history . . .
Back in 2003, the Kansas City Star issued a series of articles on what they deemed to be four key examples of residential architecture in the city, and while these four examples - Victorian/Queen Anne, shirtwaist foursquare, colonnade apartment, and ranch house - abound throughout the metropolitan region, one residential type was conspicuously absent: the bungalow.  Kansas City flourished during the early decades of the 20th century, and thousands of bungalows were erected.  These modest yet elegant dwellings were the childhood homes of many people, and their seductive charm persists today.
The Kansas City Bungalow Club was formed in late 2004 as both a challenge to many experts' willful ignorance about the importance of the bungalow in Kansas City's architectural history and as a way to celebrate their renaissance as a treasured building type.  The bungalow's simplicity coupled with stylish design still has much to say today in the era of diminishing resources and the prevalence of "cookie cutter" houses in other parts of the city.
Our original focus was on bungalows, but we have recently expanded our horizons to include all types of architecture from the mid-nineteenth century up until World War II.  These building types make up most of the core buildings of Kansas City and are being rediscovered by people who value their beauty and historical importance.