Celebrating all of Kansas City's early architectural heritage.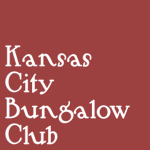 The Kansas City Bungalow Club hosts a number of events throughout the year. Most of them are hosted by generous members who open their homes to the club for an evening; periodically, the Club will also have its meeting in a historic building in and around Kansas City. The Club has been hosted in some of the most interesting and diverse buildings in the area
The best place to receive notifications about upcoming meetings is from the Club's Yahoo and Facebook pages; go to the Join tab on our website for information about adding your contact information to the Yahoo page.

Want to Host?
The Kansas City Bungalow Club relies entirely on the generosity of its volunteers to host Club events in their homes and businesses. We would love to see your place and what you've done to it ... or are about to.
Hosting is easy - just volunteer to do it, and the Club does the rest.
If you are interested, please contact Jan Bentley at 816-363-0349.