Celebrating all of Kansas City's early architectural heritage.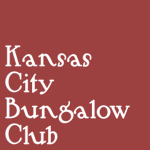 You don't have to have a bungalow to join the club - you just have to have an interest in classic pre-war architecture in the metropolitan region.  Many members do have bungalows, but just as many live in four-squares, or ranches, or new houses.
This is the easiest club to join - we don't have dues, we don't have officers, we don't have "formal" meetings with rules.  We simply meet in members' houses or local places of interest for a good time experiencing great architecture.  All that we ask of members is that they bring something to eat and drink for all the members to enjoy.  We would also like you to consider hosting a Bungalow Club meeting of your own - it's easy!  We would want you to discuss your experience with the home - how long you've had it, what you have done or plan to do with it, any interesting historical connections, things like that. We depend on volunteer hosts for almost all of our monthly get-togethers
If you're interested, contact Jan Bentley at 816-363-0349, or you can email the group with any questions at jbentleyinkc@yahoo.com.
The Bungalow Club also uses a Yahoo Group called "kcbungalow" to share thoughts and keep in touch.  You can join the group by becoming a member here, and just pressing the blue "join this group!" button.  The Yahoo site is the best and most up-to-date way to learn of upcoming meetings and events and also to pose any home renovation and repair issues to the rest of the group.
Several realtors have expressed interest in using the Bungalow Club as a resource to disseminate information about houses for sale that might appeal to aficionados of older homes.  We encourage members to use the Yahoo Groups website to post listings of any houses they want to buy or sell - it is much easier for all members of the Yahoo Group to add or delete listings on that website than on the main website, which does not have the requisite resources to maintain an active, up-to-date listing of real estate.
"Like" us on Facebook!  There, you'll find more information about upcoming events, homes for sale, and items of interest to whom we lovingly refer to as "architecture junkies".
click on the Facebook logo to be taken to our page